As Rajasthan goes to polls, thousands of silicosis patients in the state await relief and justice. Stone extracted and carved by these workers has made palatial homes and historical monuments in India but the workers themselves are left with silica-filled lungs and await a slow death.
Silicosis is a fibrotic lung disorder which is caused by inhalation of silica. No exact figure of silicosis patients is available given the lack of diagnosis and certifications facilities. The CAG report of state government says 7,959 silicosis patients were detected between January 2015 and February 2017.
The Rajasthan election campaigns focus on corruption and development. While Congress has touched upon the issue in its manifesto, it does not feature in the BJP manifesto for the state elections.
This is the second article in a two-part series on the role of environment in the upcoming elections in Rajasthan. Part One highlights the severe water crisis in the state, and stresses the need for solutions as a major demand from voters.
Thirty-eight years ago, Maangya, a Dalit miner who lived at Mamchari, a small village in eastern Rajasthan, held the hand of his seventeen-year-old son Rajulal and led him to a stone quarry where Maangya worked with his six other sons. Little did he know then that he had pushed his sons along with himself into a deadly trap. Some ten years ago, the incurable disease called silicosis claimed Maangya and two of his sons while Rajulal and rest of his brothers are battling for life today. A fight which they all know, they have already lost.
At a time when Rajasthan goes to polls, thousands of silicosis patients in the state await relief and justice. Stone extracted and carved by these workers has made palatial homes and historical monuments across the country including the Red Fort, the President's house and Akshardham Temple in the capital of India. Many of the workers themselves though have been left with silica-filled lungs and await a slow death.
Like Rajulal and his brothers, who can't even breathe normally as silica dust filled in their lungs has rendered them almost immobile, there are several miners who stare at a bleak future.  "Where do we go? What do we do now? I can't even walk a few steps. Silicosis has crippled all my family. We all are jobless and just waiting to die," Rajulal who mined sand stone for more than 25 years, told Mongabay-India.
It is this concern of survival which led to more than 1,000 silicosis patients to the state capital Jaipur in August this year where they staged a protest for their rights and demanded that disability pension and health cover be provided to them.
When a source of income becomes a death trap
Silicosis is a fibrotic lung disorder which is caused by inhalation of silica. It leads to prolonged illness and a painful death. Workers who go to stone quarries and crushers are the biggest victims of this illness. Besides, artisans engaged in gem cutting, stone carving, sculpture making and polishing industry are also highly prone to this disease.
50-years-old Nekram of Kosara village in Karauli district, worked in a stone quarry for 32 years. A few years ago when his health started deteriorating, he had to stop working. However, his 55-year-old brother Ramprasad still goes to the mine despite being aware that he suffers from fatal silicosis. "I am sick but I work in this mine because I have no other means to earn my living. I know I will die cutting these stones soon but I can't stop working." Ramprasad told Mongabay-India while working in the Sauraya mines area.
No exact figure of silicosis patients is available given the lack of diagnosis and certifications facilities. The CAG report of state government which was tabled in Rajasthan assembly this year says 7,959 silicosis patients were detected between January 2015 and February 2017. In these two years 449 people died of silicosis in just five districts of Rajasthan. However, the real number of deceased and patients on ground is estimated to be much higher.
Pathar Ghadai Mazdoor Suraksha Sangh (PGMSS) a rights group active in Sirohi district of Rajasthan claims that with the help of labour and health department, 5,373 workers were screened for silicosis in one block of Pindwara. Out of these 5,373 patients, 2,098 cases were found positive. "This survey shows that a very high percentage of labourers (employed in stone carving and sand mining) are affected by this disease. If you add up all the districts like Karauli, Dhaulpur, Dausa, Bhilwara and Jodhpur the number of silicosis patients will not be less than 100,000," said Sarafraz Sheikh of PGMSS.
The CAG report states that 2,548 silicosis-prone mining units existed in Rajasthan in 2017 but the exact number of mines is unknown as there are a large number of illegal mining units operational across the state that are unaccounted for. The workers in these units have no health or social security net. It is estimated that around three million people are engaged in all mining across the state of Rajasthan.
Long wait for diagnosis
Though silicosis is one of the oldest known occupational hazards, its patients have remained undiagnosed for years. Most of the patients were treated for Tuberculosis (TB) for decades and no effective steps were taken by the government to address the problem despite increasing number of deaths every year.
It was only in 2009 when National Human Rights Commission (NHRC) acted on the complaint of Mine Labour Protection Campaign Trust (MLPC), a Jodhpur based NGO, did the families of 21 deceased mine workers receive 300,000 compensation each by the state government. However, the state government didn't give any compensation or help to the other 52 silicosis patients whose names were also sent by NHRC.
In 2011, in an important development, another NGO, Daang Vikas Sansthan (DVS) collected chest x-rays of 101 mine workers from Rajasthan and sent them to National Institute of Miners' Health (NIMH), Nagpur. In its report NIMH confirmed 73 cases of silicosis.
"Until then silicosis patients were being treated as TB patients and the treatment didn't help them. Mine workers were burning 60 percent to 70 percent of their earnings in medical expenses. After NIMH gave its report to us the misdiagnosis of the worker's disease came in light and we then advocated for these miner's health care and rights." said Vikas Bhardwaj, secretary of Daang Vikas Sansthan.
Dr. P.K. Sishodiya, the then director of NIMH and present consultant, Occupational Health, Building and Other Construction Workers' Board, Government of Rajasthan opined that things have improved comparatively over the years. Today, the government has an online system for registration of patients who want to get themselves tested for silicosis.
According to the silicosis portal of Rajasthan government, more than 21,000 people have registered themselves for testing of silicosis. According to the portal, 5,026 cases were certified and still over 12,000 of them wait for certification. Officials of Rajasthan government say that the website is new and it does not reflect earlier certifications which may be around 12,000 in number.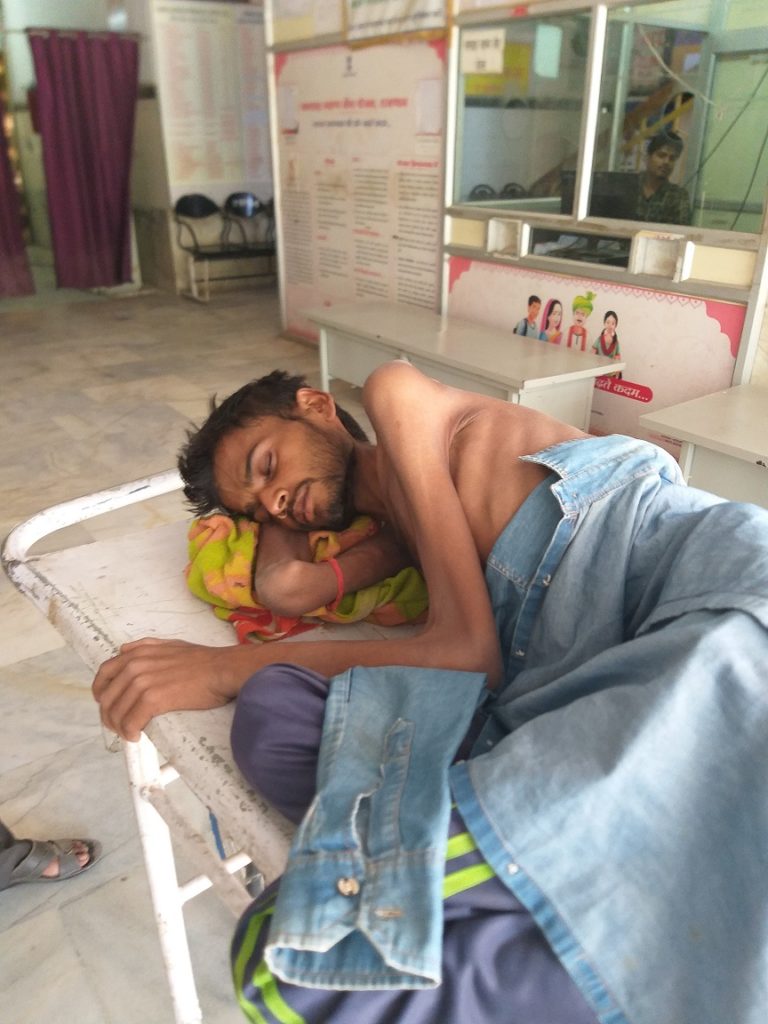 The amelioration of the condition of the affected workers requires a multi-prong strategy. "What is really required is a comprehensive silicosis detection, prevention, control and rehabilitation programme at state level. That is the only way forward. We also need specialised treatment facilities because there is no specialised facility for this at present. We also require a proper rehabilitation programme because giving money is a very small part of it. We need to improve the working conditions of these labourers in order to prevent occurrence of silicosis." said Dr P.K. Sishodiya who has played an instrumental role in detection and rehabilitation of silicosis victims in Rajasthan.
New machines causing early death
With the advent of new machines and equipment to cut the stone, the exposure of workers and artisans to the silica dust has increased manifold. Rajulal manually dug sandstone for 25 years before he fell sick. While four sons of Bhanaram, who were engaged in stone carving and sculpture making with machines in Pindwara block of Sirohi district, were gripped with silicosis within 6 years. Two of them died last month without being certified as silicosis patients and it's not clear whether they will get the compensation fixed by government. The remaining two brothers are in a critical condition.
"Machines cause large amount of dust which these artisans and labourers do inhale and that is a grave danger for the workers but the contractors and businessmen hardly bother the threat to their lives. They just want the work done fast," said Ravi Mittal, a supervisor at a stone carving unit on the national highway near Jaipur.
Silicosis has turned several hamlets into "widow villages" where women in their mid-twenties have lost their husbands to the disease.
Lopsided policy, no say in political leadership
Though the neighbouring state of Haryana has announced and notified a policy for silicosis victims, Rajasthan still has not formulated a compensation policy. However, Rajasthan government has started relief and rehabilitation schemes for silicosis affected persons. Under the schemes, after a worker is certified as silicosis patients by a Pneumoconiosis Board, he or she get Rs. 100,000 as relief money and in the event of his/her death, the family is given an additional Rs. 300,000 as relief. Experts say this compensation is grossly inadequate and unjust.
Nikhil Dey of Mazdoor Kisan Shakti Sangthan (MKSS) terms this monetary relief as "blood money" because the mine workers pay with their life for other people's luxuries. "Big monuments, grand temples and our homes are constructed from the material they dig. Even the granite slab we chop the vegetables on comes from the same quarry. They (labourers) are dying in their twenties doing this for us. Their whole life ahead should be calculated to give them proper workmen's compensation. Government can't give them such meagre amount of money as compensation like three or four lakhs," said Dey exhorting for a safe working environment for these workmen.
However, the demands of these victims for justice seems to have drowned in the high decibel campaign of Rajasthan where slogans of corruption and development have taken the centre stage. Congress has touched upon this issue in its manifesto, promising that silicosis patients will be given handicap status since they are not in a situation to do any kind of work or earn a living. BJP has not mentioned this issue in its Sankalp 2018, its manifesto for Rajasthan elections.
More than 80 percent of these labourers and artisans working in this hazardous industry are tribal or Dalits. "They have no say in political or administrative circle. That is why their problems are being neglected. If the government authorities had taken some care, they could have prevented this Himalayan tragedy," said Dr. M.K. Devrajan who was a member of Rajasthan State Human Rights Commission and also worked actively for the welfare of silicosis victims.
Continue reading:

Part One: Water scarcity: Will the elections quench Rajasthan's thirst?
Banner Image: Nekram and Ramprasad in the sandstone quarry. While Nekram stopped working, his brother Ramprasad still works in the stone quarry despite knowing that he has silicosis. Photo by Hridayesh Joshi.